Southwest Football Team Earns First Win of the Season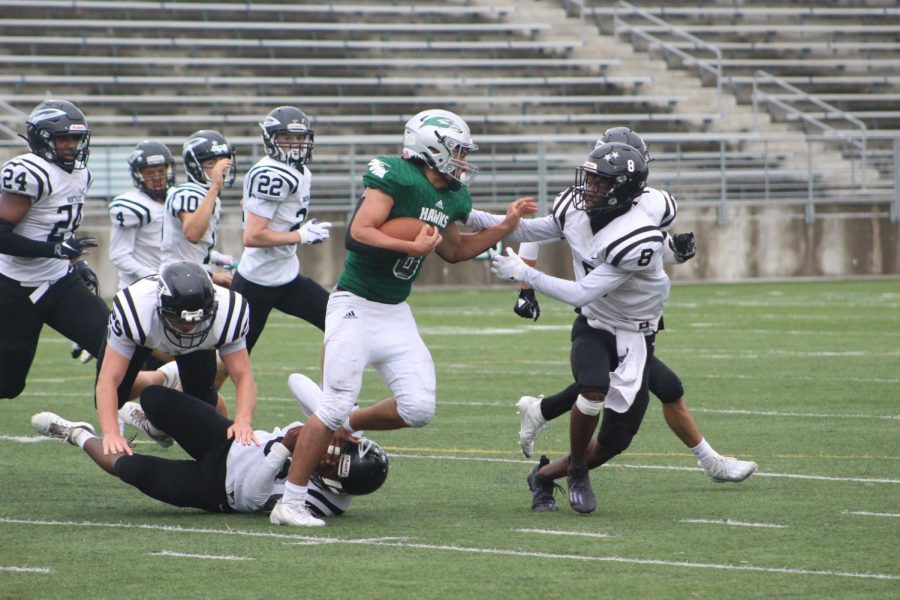 The LSW varsity football team picked up their very first win of the season on Friday with a 48-7 win over Lincoln Northeast.
The Hawks opened up the game on a bit of a sour note, after fumbling the opening kickoff and losing possession to Northeast.
Northeast would score the first points of the game with a touchdown to put the Rockets up 7-0. The Hawks would respond with a field goal a few minutes later to make the score 7-3.
"We were tired of losing," senior Blake Baker said. "We came together after that and told each other that we would not lose to this team, not without a fight. After that, we got things rolling and ended everything on a very positive note to go into this week."
In the second quarter, senior quarterback Noah Russell would score on a touchdown run to give the Hawks a 10-7 lead. From there, the Hawks proceeded to score 38 unanswered points.
"It was a big win for us and it means a lot to the team," senior Grant Buda said. "It was nice to get a win before playing a good team like Elkhorn South."
The defense played well, allowing only 101 total yards for the Rockets' offense. The defense also recorded two interceptions and five sacks.
"We held up pretty well," Baker said. "Two interceptions and a safety I would say is a pretty solid performance. Plus, when you factor in the amount of penalties Northeast had on offense, not only does it break them, but it really amps us up."
The Hawks offense was able to get over 100 yards in passing, receiving, and rushing yards. The Hawks had 605 total yards on offense; 187 passing yards, 244 rushing yards, and 174 receiving yards.
"It felt like we were more in a rhythm on Friday." Buda said.
The Hawks' next game will be on the road against Elkhorn South on Friday, Sep. 18.