Students Over-The-Moon for Upcoming Marching Band Season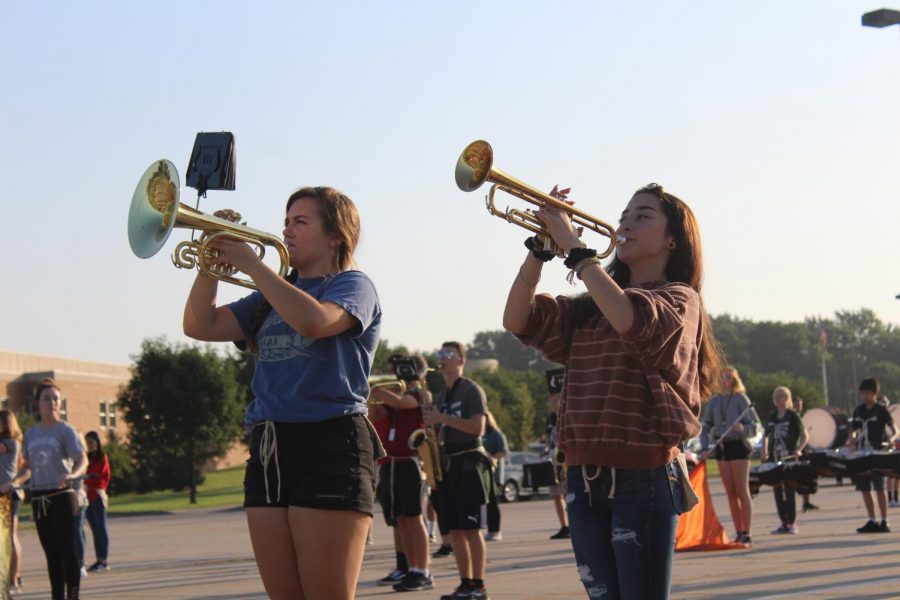 With fall coming just around the corner, the Silver Hawk marching band is preparing for the upcoming season of contests, parades and football games. 
The 2019 Varsity show honors the 50th anniversary of the Apollo 11 mission, the first time that humans ever stepped foot on the moon. Songs being performed include "Fly Me to the Moon," by Frank Sinatra, "How High the Moon," by Ella Fitzgerald and "Major Tom's Moon Dance."
"I am very excited to be a varsity drum major this year after being a freshman drum major last year," senior Nakanda Kairigi said. "This year we have had drill rehearsals at Seacrest, which has given us a great advantage. I am very confident in the band, and I know we will perform very well this year."
Marching students meet in the back of the Southwest parking lot every morning at 7:15 to stretch and run their drills. The front ensemble meets in the band room to do their separate rehearsal and eventually incorporate themselves into the whole band rehearsal. 
"I feel great about this year. I hope we really do well at our competitions," sophomore Deryk Giesler said. "Especially K-State, because it's a different atmosphere than what we are used to and we have to represent Nebraska and LSW well."
While some Silver Hawks are familiar with the format, others are experiencing marching band for the first time. Junior Alberto Bellucco is a foreign exchange student from Padua, Italy, and has come to Nebraska through the EF Exchange Year program. 
"I have only done concert band before coming to the United States, with clarinets and violins. Marching band is a brand new thing for me but I have picked it up quickly," Bellucco said. "I really like it here and I'm glad I decided to do it." 
In addition to the Varsity band, the freshmen band works on their own 60s-themed show during their second block. This way, the younger members learn a separate show to practice skills they have learned in class, and songs include "Sweet Caroline," by Neil Diamond, "Paint it Black," by The Rolling Stones and "Can't Turn Me Loose," by Otis Redding. 
"I'm excited to be able to do marching band with my friends," freshman Caden Basurto said. "I like playing in the stands at games and hanging out with my bandmates."
The first Varsity performance is at the first Varsity football game on Aug. 30 at 7:00 p.m. at Seacrest.