"Beetlejuice" on Broadway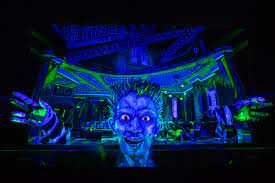 This past summer, the LSW theatre group had the opportunity to go on a trip to New York City . As part of the trip, we all got the opportunity to see a total of five Broadway shows. One of those five shows was "Beetlejuice."
For them this was a big deal but it was an even bigger deal because of their involvement in Lincoln Southwest's theatre department. High school theatre had given several people the impression that all shows would take place on a stage even bigger than the Southwest auditorium. However, that is far from the case. 
The Broadway show tells the story of a young girl named Lydia Deetz, a teenager who after going through the loss of her mom and neglect from her father, becomes slightly obsessed with the whole "being dead thing." She then discovers the haunting of her new house. Adam and Barbara Maitland are stuck in their old residence after dying in a car accident. Adam and Barbara do not want to lose their home to the newcomers (Lydia and her family) and decide the way to win it back is to haunt their way back to being the only inhabitants. However, through this process they attract Beetlejuice, which proves to be dangerous for both Lydia and the Maitland couple in the future.  Beetlejuice is the main character and a demon who is in pursuit to be seen by the living again. To do that his name needs to be said "three times in a row spoken unbroke." Beetlejuice tries to gain his life back by using the Maitlands. 
The production of "Beetlejuice" has an amazing set design which is all packed on a stage the same size if not smaller than the Silver Hawk theatre auditorium. Although when our group went to see the production, it was in one of the bigger theatres available. The use of color and light in the show expands the stage to be bigger than what it looks. Set designer David Korins does an amazing job at using lighting to create different sets on the stage. 
One thing that stood out during the performance was the energy of every actor in the show. Throughout every song the energy of each character was topped over and over again. The lead, Alex Brightman, who plays Beetlejuice, does an incredible job at acting out his character. When he stepped on stage he truly embodied the role of Beetlejuice. 
To continue, Brightman is not the only one who is amazing at keeping their energy up and portraying their character. The ensemble in this show play multiple roles while keeping their energy up the whole time. They are able to act and dance for multiple characters throughout the show. At one point in the show there are people dancing in skeleton suits, which completely alter the way you have to move. The actors ability to portray their characters in a show is incredible, especially with so much going on.  
All in all, I give the broadway production of "Beetlejuice" four out of five stars. Out of all five shows that we got to see I would say that "Beetlejuice" was my favorite.