Southwest Cheer and Dance Fly High At State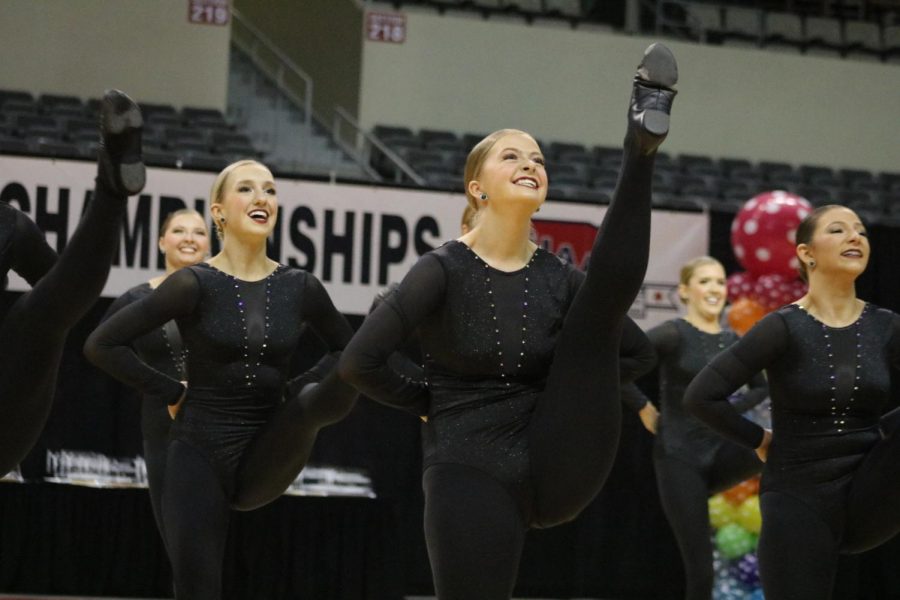 The Lincoln Southwest competition cheer and dance teams went to the Nebraska State Cheer and Dance Championships on Friday, Feb. 21 in Grand Island, Nebraska. The cheerleading squad placed first in Traditional Performance and fifth in Game Day, and the Emeralds dance team placed first in High Kick and fifth in Pom. 
In High Kick, the Emeralds had zero deductions and received a score of 87.65, and first place. In order to qualify, there must be at least 60 kicks that keep one foot on the ground and the other foot at least one inch above the ground.
"It was really hard to get 60 kicks," junior Maggie Winklepleck said. "There were six teams this year in the competition and it takes so much energy to kick 60 times in two minutes but it is such an adrenaline rush."
In Pom, there were zero deductions, and the Emeralds received a score of 86.83 with fifth place. To qualify as a pom routine, poms must be used through 80 percent of the routine. The team must be synchronized and movements must be sharp and precise. 
The competition cheerleading squad had zero deductions, a score of 80.80 and first place in the Traditional Performance competition. To be considered as a Traditional Performance, a routine must include a sideline cheer or chant, the musical performance must not exceed one minute and thirty seconds, and the entire routine must be under two minutes and thirty seconds. 
"I was really glad we got first place," sophomore Maggie Troyer said. "It was fun to see all of our hard work pay off and to see that our coaches were so excited for us was cool." 
In the Game Day competition, the squad had half a point of deductions, a score of 80.30 and took fifth place. In order to be eligible for Game Day, routines must include a band chant, a situational sideline, a crowdleading cheer and a fight song, in that order.
"Knowing that it was my last go-around at state was bittersweet," senior Kelsey Hall said. "It's hard being on the Emeralds for four years and then coming together to take the stage feels good and I have really enjoyed my years here."