Integrity on the Courts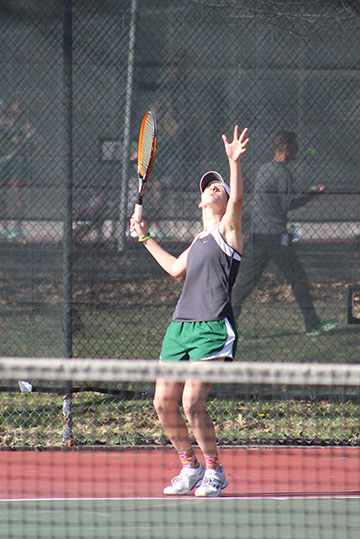 By Leila Stewart
"15, love, first!"
The tennis ball is served by Player A on the opposite side of the court.
"Out!" calls Player B.
Player A retrieves a ball for their second chance to serve.
"15, love, second!"
In between the first and second serve, two things happened:
1. The ball was called out by Player B.
2. Player A complied to the call.
On a high school tennis court, unlike professional and other sports, there are no officials to make these calls.
There are no line judges like the ones that can be found in high school volleyball or referees running up and down the courts, like the ones found on high school football fields and basketball courts.
"There are always calls that players are going to miss, whether the ball was going too fast for them to see or they just plain mess up, but I have learned that there are players who deliberately call the game in their favor in order to win," said Widholm.   
Senior Makenna Widholm started playing tennis her freshman year at the reserve level. She has played all four years of high school, and is currently on varsity, playing both doubles and singles.
Besides knowledge and skill, tennis relies on a key component of human interaction: honesty.
"Because there are no officials, it's difficult to correct these players. Reputation is everything and when your reputation is your cheating, you won't go very far on the court or in life," said Widholm.
Dennis Hershberger, the head tennis coach at Southwest, has coached 50 seasons of boys and girls tennis combined. He has seen the highs and lows of playing a sport like tennis and what it means to be a credible player in the game.
"Every season, I'm always amazed to see how many of my players grow into really special people, through the ups and downs of a competitive season," said Hershberger.
Conflict does not arise majority of the time on the tennis courts. In fact, for the most part, coaches do not get involved with players during their games.
"Players are responsible for keeping score as well as their calls. Once the match is called, there is very little adult intervention," said Hershberger.
Like any game, someone will win and someone will lose. The path players choose to take to get to the end result is up to them.
"We spend time talking about what we can control on the court and what we cannot. Having success, may not always be winning the match," said Hershberger.
Success means different things to different people. In a high school sport where players have to hold accountability for their actions, there are different approaches to the meaning of it.
"I think honesty is a key component of being successful. There are many forms of winning and being a person of high character is one of the best forms of winning," said Hershberger.
Hershberger teaches his players lessons that they can use on the tennis courts, but off the court as well.
"Sometimes the tennis balls of life do not bounce your way or inside the lines, but, it does not mean you give up, you try something different, you keep going and persevere," said Hershberger.