"Better Together" Inspires Success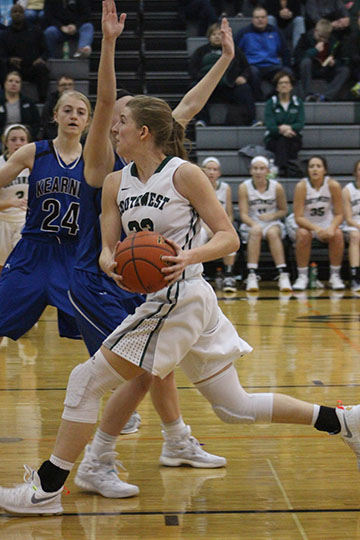 By Claire Neemann
After finishing 12-12 last season, the Southwest Varsity Girl's Basketball team showed improvement in all aspects of the game. The Hawks had quality wins against highly ranked Millard North, Kearney and Omaha Westside. They beat Millard North 56-48, Kearney 49-43, and Omaha Westside 54-47. They also had several wins against defending State Champs, Lincoln East.
In his third season, Head Coach Jeff Rump dedicated their success this year to their motto over the summer: We Before Me.
"We've been talking a lot about how 'Better Together' is our motto, and I think that the kids do realize that we are better together as a team than they are as individuals," said Rump.
One of the key differences Rump said he saw this year was the leadership and the positive attitude that surrounded the team.
"I see all 11 girls always getting along, which is good and what you want from your team," said Rump.
Rump wasn't the only one to see a significant difference in the teams. JV coach, Nicole Kubik, also saw a difference.
"I think team chemistry was a reason for the Varsity success this year. The team gets along really well and plays for each other," added Kubik.
Another difference is a change in personnel. The addition of assistant coach Tim Barada allowed the team to play more man-to-man defense, which had proved to be successful.
"This year we have the personnel to play a more up tempo game and a more pressure man-to-man defense," said Kubik.
Also new this year, the team practiced by themselves, compared to last year when they practiced with JV. The change allowed Varsity to focus more on themselves and the things they needed to get better at.
"We are finding that we are able to have our practices more intensebecause we have less people to get through drills," said Rump.
The team consisted of four seniors, two juniors, four sophomores and one freshman. Because of how young the team was, Rump is optimistic about the future. "We're young. We play four sophomores and a freshman quite a bit and two juniors, so we have a lot of kids coming back. I think we've got some good athletic kids in the incoming freshman class and the class below that," said Rump.
Entering the District Tournament, Varsity had a record of 18-5.
The Hawks received the number one seed in the District A-4 tournament. They beat Bellevue East 59-37 to advance to the District Finals. In the championship game, they beat Omaha North 51-48, earning a bid to the State Tournament where they played at Pinnacle Bank Arena for the first time. They played the fifth seed, Millard West.