Let Your Talents Take Flight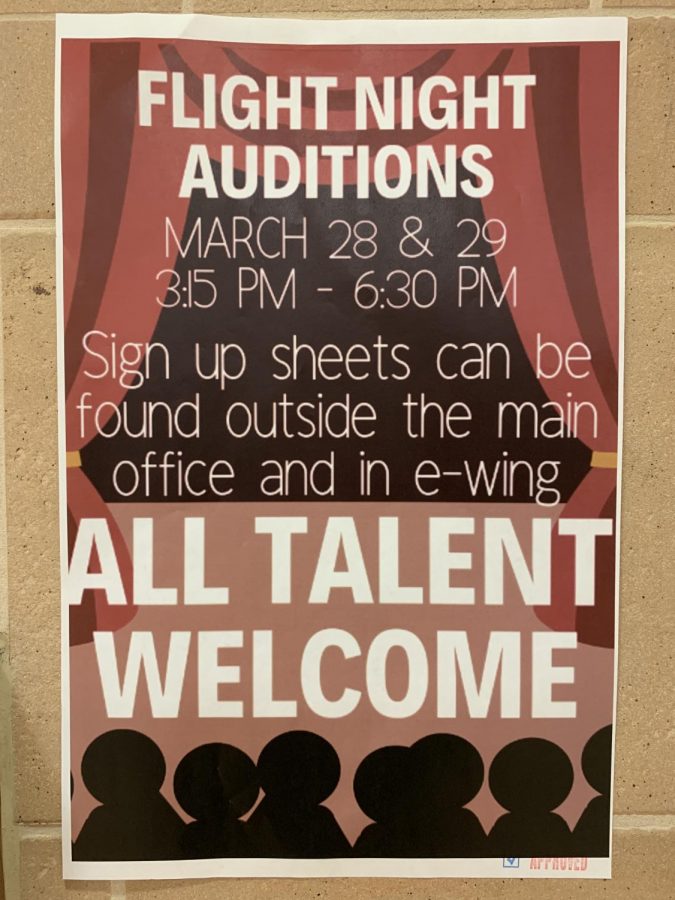 Flight Night auditions will be held on March 28 and 29 at 3:15 p.m. to 6:30 p.m. in the auditorium.
Flight Night is a talent show that showcases the many talents of Southwest students.
"Flight Night gives a lot of students the opportunity to show their talent in different ways," Mrs. Sarah Hammers said. "I think that it brings the student body together."
Sign up sheets are available outside of the main office and in the e-wing. Certain time slots are available at the signup sheet outside the office while others are available in the e-wing.
Students auditioning who have music must bring it with them to play as an auxiliary cord will be available to them.
The actual Flight Night performance will last between two to three hours with an intermission.
Student Council members will be judging auditions.
"The people judging are super nice and usually the majority of people auditioning make it," junior Sam Spethman said. "No one is going to judge you and it's a safe space for everyone."
Student Council recommends that students prepare for the auditions ahead of time and that your audition is what you will be performing at Flight Night.
All talent is welcomed.
Previous acts include singing, playing an instrument, clogging, and other kinds of dancing.
"I think it's great to see all the amazing things our student body is doing and all the awesome talents they have," senior Aila Ganic said. "A wide variety of talents are shown so people shouldn't be afraid to showcase a talent that is less known."