Jazz Concert Performs
The second jazz band concert of this school year was held at the auditorium at Lincoln Southwest High School on Thursday, Dec. 16 at 7:00 p.m. 
It is also a special concert because the second jazz band concert of the year is the only concert during the year that students are allowed to dress up.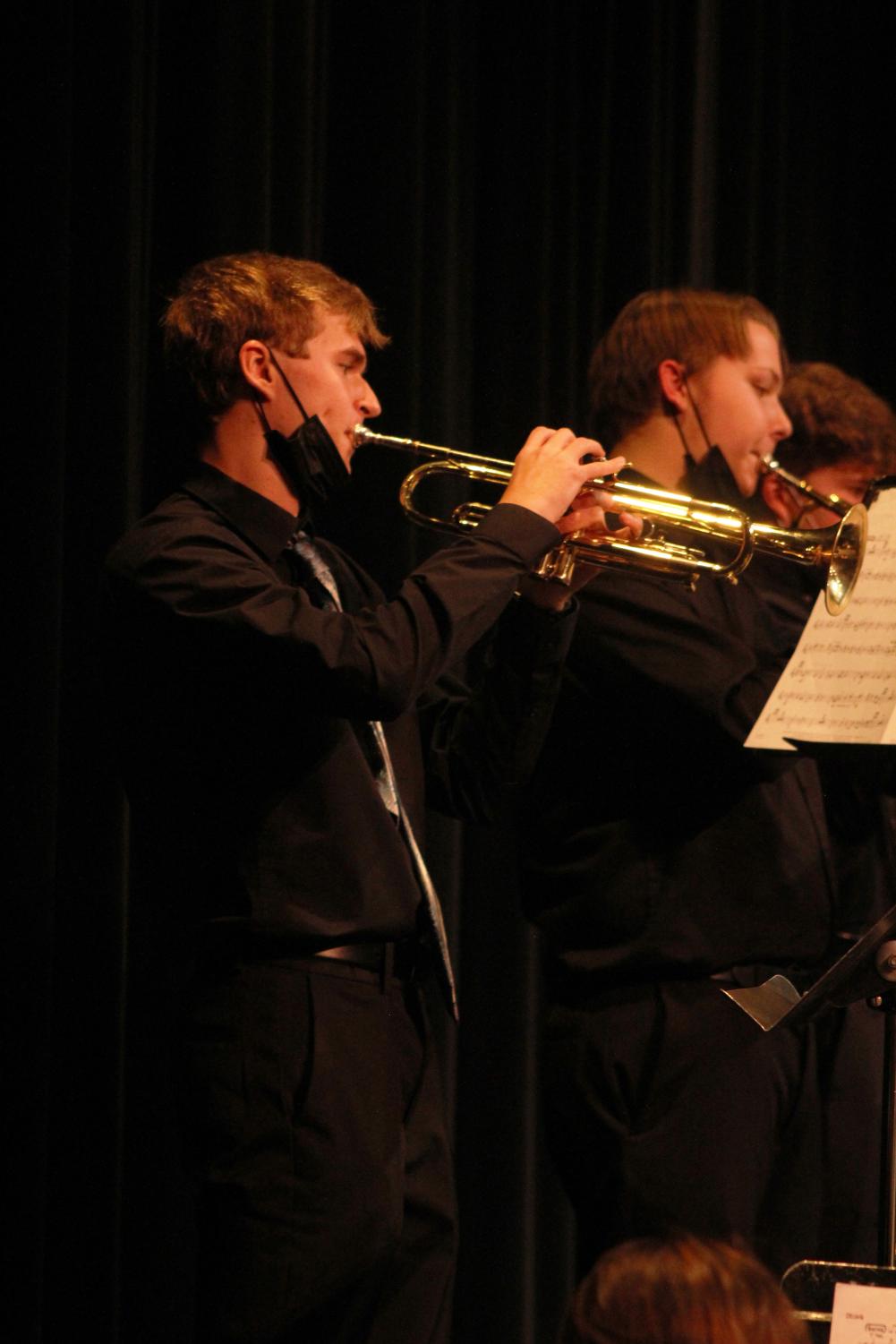 Jazz II started off the evening with "Shiny Stockings" arranged by Frank Foster Sammy featuring sophomore Elena Vance with a piano solo. Then, "Cotton Tail" arranged by Duke Ellington and Mark Taylor featured soloists junior Addie Armstrong with trombone, senior Elaine Bai with alto saxophone, senior Grant Gouldie with piano and junior Caden Allerheiligen with trumpet. They continued with "The Christmas Song" arranged by Paul Jennings with trumpet player, junior Jackson Linke. They finish off with"The Most Wonderful Time of the Year" arranged by Paul Murtha.
"I think it was one of my favorites to do just because we all love the Christmas concert," senior Jazz I trumpet player Ashley Shannon said. "A lot of the pieces we performed had vocal charts which showed off our choir kids' talents. It took a long time to make everything look good, sound good, be good but I am really proud of how much effort we all put in."
Prep Jazz then took the stage with "Hot Chocolate Ballard & Silvestri" arranged by John Berry featuring sophomores Harrison Frye on drums, Jordan Kreps and Aaron Wohleb with alto saxophone. Then, "A Swingin' Holiday" arranged by Ralph Ford. They continued their performance with "Jericho" arranged by Chris Sharp, featuring sophomore drummer and soloist Eli Thomas. They finished their performance with "Jingle Bell Boogie" arranged by Bryan Kidd featuring sophomore soloist Mirabella Kundhi on tenor saxophone.
"The "Jericho" piece was probably one of the most difficult that I have done so far," Thomas said. "But it's also one of the pieces that I liked  most in Jazz because of the old, middle eastern-ish vibe with it."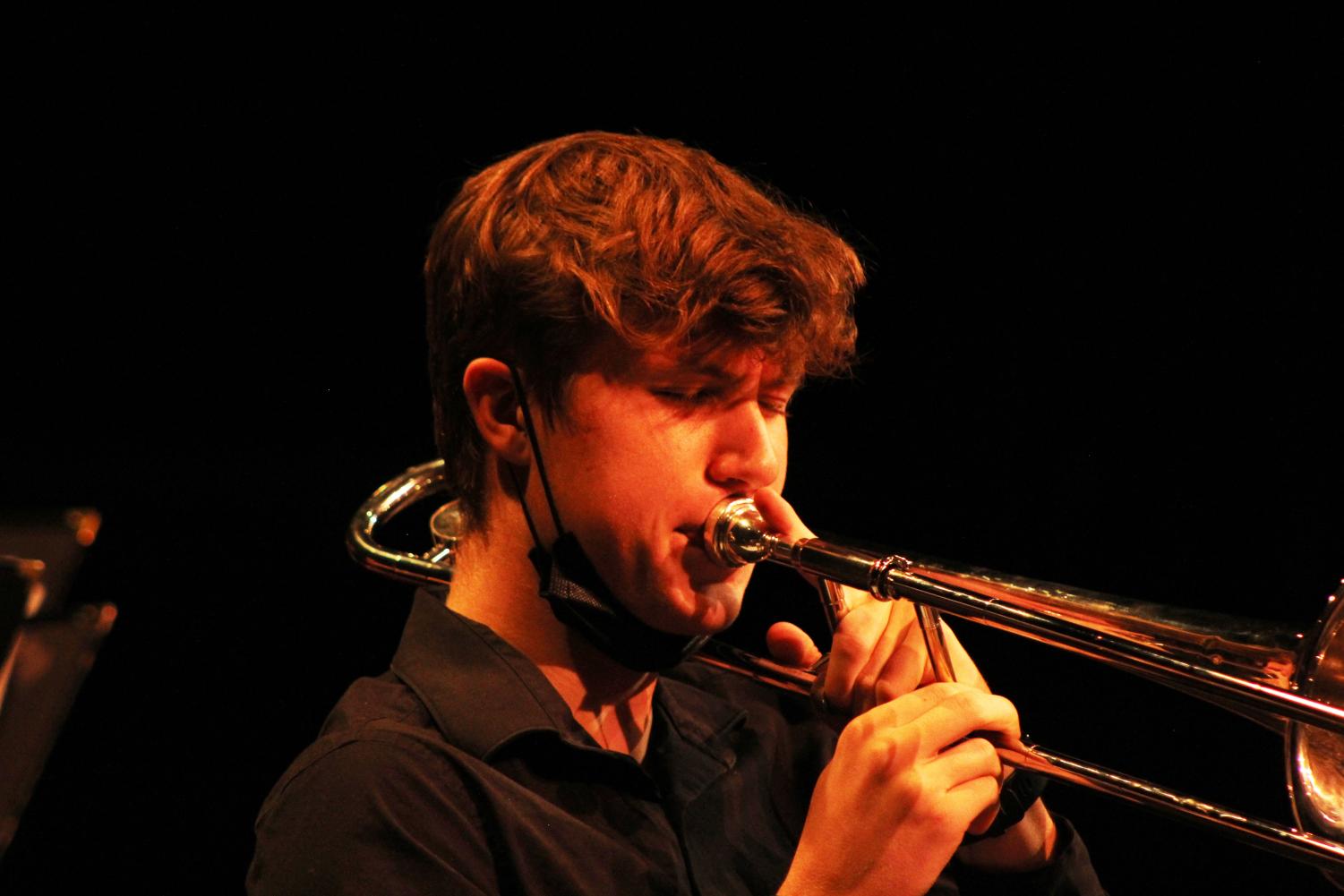 The stage was taken by  Jazz I with "Love" arranged by Dave Wolpe featuring seniors George Lionberger, Andrew Tangen, and junior Harrison Harvey with their trombone solos. They continued with "Hay Burner" arranged by Sammy Nestico featuring senior Anton Angeletti on piano. Then "Let It Snow!" arranged by Roger Holmes followed with solos from seniors Camille Vance as vocals soloist, and soloist Hunter Sands with the tenor saxophone. "Baby, It's Cold Outside" arranged by Frank Loesser and Roger Holmes featuringsenior trumpet player Shayla Cordova, and Sands with the tenor saxophone. Jazz I finished their performance with "Everybody's Waitin' For the Man With the Bag" arranged by Rick Stitzel featuring senior Hunter Pitt as a vocal soloist.
The night ended by a surprise performance from Jazz I's saxophone player, Camden Smith playing the melodies of "Have Yourself a Merry Little Christmas" accompanied by Angeletti on the piano. 
"I was kind of nervous at first when I was planning it," Smith said. "Two days before the concert I asked my friend [Angeletti] if he could play the chords on the piano for me. I think that the audience really liked it. It's tradition [to dress up for the holiday Jazz concert.] The trumpet section in Jazz I went over the top [with their costumes] this year, which I liked."