"Open Up Your Head" by Sea Girls Review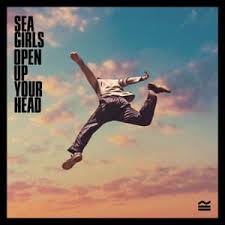 The album "Open Up Your Head" by Sea Girls came out Aug. 14, 2020. There are 14 songs on the album. The Indie rock album is the band's first official album. The album has a unique sound that makes you want to bop your head and hum along, even if you don't know the words. It wasn't your average indie album. It had depth and meaning floating throughout each song. A sense of calmness was echoed throughout the album and the lyrics had a way of sinking into your mind for you to process.
The sound of each song was very happy but some of the lyrics said otherwise. The lyrics in some songs were sad and in other songs they were very uplifting and joyful. The instrumentals were very unique and interesting to hear. Especially in the song "Damage Done." It had the classic Indie rock sound with prominent drums and soft guitars. The lyrics seem to be portraying a breakup and moving on from it. It states, "You're not the inspiration, You're not the reason for this song." The lyrics throughout the song seem very sad, yet the sound is the exact opposite. It had a smooth beat and rhythm to it. Many of the songs on the album seem to follow this pattern and sound.
In several of the songs, the progression of the sound led to the chorus having a much bigger impact. This album is the type of album that you listen to a second and third time around just to experience all over again. It has a sound that you can't ever get tired of and the lyrics really resonate with everyone. Sea Girls really set the bar high with their spectacular debut album, "Open Up Your Head."