Flawless Flipping: Tumbling Towards Her Dreams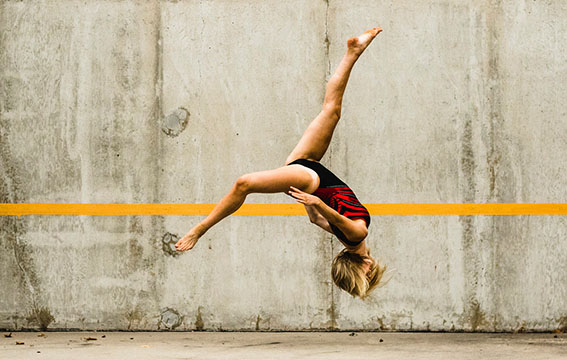 Hang on for a minute...we're trying to find some more stories you might like.
By Natalie Hillman
When senior Rachel Thompson was around three years old, her mother noticed that she was always climbing on the couches, tumbling and running around. To find a place for Thompson to get her energy out, her mother signed her up for gymnastics at the local YMCA. She took a few classes and fell in love with the sport. So, at six years of age, she transferred to Solid Rock Gymnastics to start competing.
While at Solid Rock, Thompson learned the basic gymnastic skills that would set her up for further success. Thompson started competing in all of the events available to her, which were vault, beam, bars and floor. Her favorites, and the events she was most successful in, were bars and beam.
Although many gymnasts are known to be short (Olympic Gold Medalist Simone Biles is 4'9''), Thompson has always been fairly tall. Thompson believes that bars and beam are the best events for her because of her height.
"They are the most flattering for gymnasts who are taller like me," said Thompson.
Beam tends to be the most feared event, but Thompson is not afraid and gets a thrill out of performing on the beam. Motivated by her dream to compete in college and her constant creation of new goals, she decided to stick with gymnastics as she transitioned from middle to high school.
During the summer before her freshman year of high school, Thompson switched from Solid Rock to Nebraska School of Gymnastics, NSG, because she felt she would get the most out of the training provided there and appreciated its positive environment. She went through a "trial day" at NSG, and decided that it was the best place for her to train. During her time with NSG, she met new friends at her competitions, learned how to manage her time wisely, and traveled to a wide variety of states. Her craft has taken her to Arizona, Colorado, Texas, Kansas, South Dakota, North Dakota, Minnesota, Iowa, Illinois, Wisconsin, and Florida.
On average, Thompson trains for four hours a day, five days a week and competes in at least 10 competitions each year. A typical practice for Thompson includes around a half an hour of stretching, an hour of beam, an hour of bars, an hour of either vault or beam (she switches off daily to prevent ankle injuries), and a half an hour of conditioning.
"We have no off-season. We learn new skills in the summertime, learn new routines in November and October and compete from January to May," said Thompson.
Even though she puts in hours of work at NSG, Thompson does extra outside of her formal practices to be even more successful. She often works out in her spare time, and she stretches before she goes to practice everyday to warm up her muscles.
Beyond the physical practice, Thompson has to maintain a healthy lifestyle. She attempts to stay away from the deserts and not eat fast food during her competition season.
"You have to eat healthy and get a lot of sleep every night," says Thompson. "Because I burn a lot of calories at gym, I eat a ton constantly and drink a lot of water to stay hydrated."
Being a gymnast is hard work, but Thompson appreciates it.
"I enjoy the difficulty that comes with the sport and I like being challenged," said Thompson.
Over the years, Thompson has had to overcome many injuries, including multiple ankle sprains and shoulder injuries that have lead her to endure months of physical therapy, as well as a concussion. Thompson has always persevered through her injuries and kept working to achieve her goals. One specific goal of hers is to achieve an aerial layout step out on the beam.
"Injuries are inevitable in gymnastics, you just have to stay mentally tough and take care of your body the best you can," said Thompson.
She has had help working towards her goals from some of her favorite coaches, Coach Owen Fields and Coach Vanessa Miloche.
"Owen always created a fun atmosphere for us and didn't make it feel like work. Vanessa has helped me the most with preparing me for college because she was a University of Nebraska-Lincoln Gymnast," said Thompson.
Looking back, Thompson has made countless friends through gymnastics including one of her best friends, Morgan Hooper. She and Hooper have been teammates since they were eight years old, and they switched together from Solid Rock to NSG in the same year. They often travel to competitions together and have maintained their friendship outside of gymnastics.
After years of competitions, Thompson has some rituals that she sticks to every time she prepares to step on the mat, even though she does not consider herself superstitious. Thompson eats pasta and/or salmon because they give her energy and are not heavy foods. She listens to music to pump her up while she gets ready, and she also does her hair a certain way.
"For my  hair, I do two corn rows on the side and a french braid down the middle into a bun every time," said Thompson.
Thompson has won countless awards, including over 250 medals, and has even qualified for the Junior Olympics. She is a level 10 gymnast now, which is the highest level and has improved most on her form over the years. One of her biggest accomplishments took place in the fall of 2014. Thompson, a sophomore in high school, verbally committed to being a member of the University of Nebraska-Lincoln's Women's Gymnastics Team. This past fall, Thompson made her commitment official and signed to be a member on the team.  Through her continued hard work and dedication, Thompson has encountered success and has had the opportunity to follow her dreams.
"It's amazing how many opportunities this sport has given me. I can't imagine where I would be without it. I'm forever grateful," said Thompson.