Rodeo: Underrepresented in High School Sports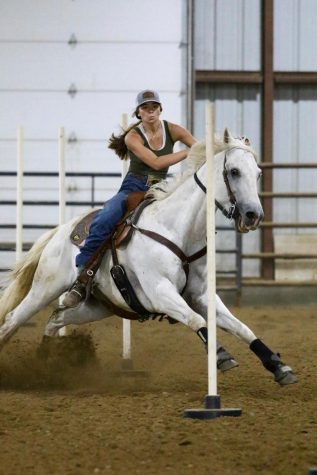 When most people think of high school sports, basketball, football and volleyball come to mind. They are arguably the most well-attended sports at Southwest, and are likely just as popular at other high schools across the country. However, one sport that receives no recognition, or any thought at all in high school sports, is rodeo.
There are multiple students in Lincoln Public Schools who compete in rodeo, not only at Southwest, but also Northeast and East. Many students, myself included, who compete only in rodeo and don't have time for traditional school sports, feel excluded and unsupported.
"I think rodeo is really overlooked here at Southwest," senior Clara Bradbury said. "Rodeo is represented pretty well in schools in places like Broken Bow and other parts of western Nebraska, because some of the schools there, like Burwell High School for example, have rodeo clubs. It's disappointing that LPS doesn't acknowledge rodeo athletes because I devote so much of my time to this, and so do lots of other people in the district."
The premier youth rodeo organization in the United States is the National High School Rodeo Association (NHSRA). The association offers competitions for middle and high schoolers in 43 states plus Australia, as well as Alberta, British Columbia, Manitoba, Saskatchewan and Ontario, Canada. The NHSRA allows members to compete in both timed and judged events. Timed events include barrel racing, pole bending, goat tying, steer wrestling, team roping, breakaway roping and tie-down roping, while judged events include saddle bronc riding, bareback bronc riding, bull riding, cutting and reined cow horse.
A common argument against rodeo that I've heard is that rodeo isn't a sport because the horse does all the work. On the contrary, according to an article published by the National Institutes of Health titled, "Equestrian expertise affecting physical fitness, body composition, lactate, heart rate and calorie consumption of elite horse riding players," an amateur horse rider's heart rate increases from 94 bpm (beats per minute) before riding to 121 bpm while the horse is walking and 176 bpm while competing. An amateur rider's average heart rate during a ride is 138.4 bpm. For comparison, according to an article from the Gatorade Sport Science Institute, titled "Physiological Demands of American Football," the mean heart rate of a football lineman during a game is between 135 and 136 bpm.
 The definition of a sport according to Oxford Dictionary is, "an activity involving physical exertion and skill in which an individual or team competes against another or others for entertainment." A heart rate at 138.4 bpm is certainly evidence for the rider's physical exertion, and in timed events, the rider and horse work as a team. In most judged events, the rider as an individual works against the animal, a bull or horse, for the entertainment of the audience.
So how do schools incorporate rodeo into student life? Well, there are multiple parts to that answer. On a small scale, student absences for rodeo events should be excused like student absences in other sports are. Secondly, significant achievements of rodeo athletes could be read on the announcements just like the achievements of other student athletes. Currently, they are not read because rodeo is not a sport recognized by the Nebraska School Activities Association (NSAA). On a larger scale, a rodeo club could be created for both current rodeo competitors and those interested in getting into rodeo. As of right now, I could name seven students who would like to participate in rodeo club at Southwest if it were created.
"Creating a rodeo club would help students who live in more rural areas feel like they belong," Bradbury said. "It would help the school be more inclusive towards people of different backgrounds and demographics." 
Once NSAA approval is secured, the team could also practice together at a local arena or farm to better their skills. If club members didn't have their own horse to compete on, myself or other students with rodeo connections would be able to set up an opportunity for them to ride someone else's. If students had their own horse but didn't have a trailer, more experienced club members could take an extra horse in their own trailers. 
Upon joining the club, participants would be required to sign a waiver stating that they will not hold their teammates, coaches or venues they compete at responsible for injury. The club would ideally have a staff adviser who would coach students and help them become NHSRA or Mid-States Rodeo Association members. 
Rodeo club would not cost the district money as we would hold a fundraiser at the beginning of the year to cover the costs associated with entry fees and would work to secure athlete sponsorships from local businesses. Annually, a donation of about $500 per athlete in exchange for the promotion of their brand would suffice as a sponsorship.
Rodeo is a very unique sport, in the sense that it instills certain values in athletes that other sports don't, which is why it should be offered at Southwest. Not only do rodeo athletes have to cooperate with another teammate, but they are solely responsible for that teammate. Mainstream sports require players to be a part of a team, but they don't have to make sure their t
eammates are clean, fed, and feeling ready to perform. Rodeo competitors also learn nonverbal communication, because horses can't just tell their riders when something's wrong. An example of this is that when I'm riding, I can tell my horse is irritated and upset when he pins his ears back or swats his tail. 
Not only will rodeo opportunities at Southwest make the school more inclusive, but in a world so full of conflict, instilling these skills of selflessness and exceptional communication in our youth will have a positive impact on our community.