Plexiglass Dividers at Lunch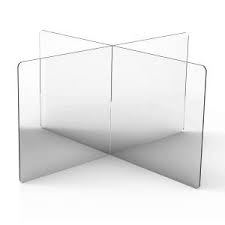 Plexiglass dividers have been placed on lunch tables to help stop the spread of COVID-19. 
"I don't have a clear timeline for how long they will be used," Principal Michael Gillotti said. "I expect us to use them as long as we are still wearing masks and expected to practice social distancing as much as possible."
Clear dividers have been placed on tables to limit contact between students while they have their masks off. 
"They really suck," sophomore T Wilson said. "I literally have to yell across the glass and the other person can't hear me. I know they are there for protection, but the others can't hear me except for the people right next to me." 
The shields will make it more difficult to hold a conversation, but will reduce the number of high-risk contacts while at school. 
Hopefully, this will reduce the number of students that will have to quarantine.