Behind The Ribbon: Red Ribbon Week in High Schools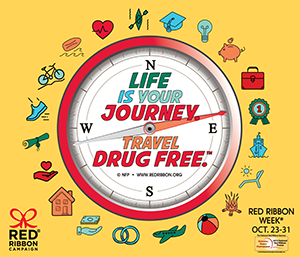 For the week of Monday, Oct. 23 to Wednesday, Oct. 31, U.S. schools are celebrating Red Ribbon Week. Sponsored by the National Family Partnership, this event encourages kids to stay away from drug-use. It is a method of communication for adults in the community to warn kids about the importance of staying clean.
Kids can get drugs from various sources, but how they get them in high schools is not widely known.
"Sometimes what students are doing is getting perscription drugs, and those come from stealing from family or stores," School Resource Officer Lynette Russell said. "Or if they buy it from Colorado, and bring it into Nebraska, it eventually gets into the schools."
In a study done by the Washington Association for Substance Abuse and Violence Prevention, over 40 percent of high school students have abused alcohol and/or drugs in the U.S.
"Drugs at Southwest aren't a huge issue, but in general I think they're a problem," freshman Brianna Rinn said. "Red Ribbon Week raises awareness and informs kids on the downsides of drugs."
Red Ribbon Week was started in 1985 because of the death of Enrique Camarena. He was an undercover U.S. Drug Enforcement Administration officer who was abducted, tortured, and murdered by drug dealers while in Mexico on an assignment. People around the world were outraged, and started wearing red ribbons for Camarena around their wrists. At the time, there weren't any prominent organizations or foundations that discouraged the use of drugs in high schools.
"Kids do drugs, and I think the way to make them stop doing it is to just educate them," freshman Kolyn Beard said. "Even more than we already are. I think adults don't want to talk about it (drug-use) enough, even though Red Ribbon Week is a really great effort."
This year's theme for Red Ribbon Week is "Life is Your Journey. Travel Drug Free." The event's website provides infographics, curriculum ideas for all grades as well as an online course for high school students.
Students parents and schools can get involved by entering a photo contest, where students, parents and staff decorate the front door of a home, school, fence or mailbox with red ribbon. Then upload the photo to social media sites. The entries with the most votes in their region will recieve an iPad and $1,000 for their home school.
For more information about this nation-wide campaign, go to redribbon.org.