AP Testing Starts this Month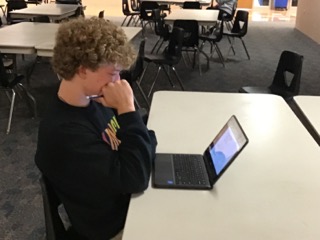 As the school enters the month of May, advanced placement testing for college credit begins. All exams will take place between the weeks of May 1-5 and 8-12 in either the wrestling room or media center.
"I am taking the AP US History exam. I am feeling good about the exam because history is one of my strong suits and I have studied using YouTube videos and past notes from the first semester. Mr. (Alex) Bahe has helped me prepare by having reviews and posting stuff in Google Classroom," junior Isaak Hogeland said. "I would tell my fellow testing students to do your best, not be stressed and get a good night's sleep the night before."
Students who have selected to take the test will have received an email telling them what room, seat, time and date they will be taking the test. Students should bring their student ID, wooden #2 pencils, blue or black ink pens, a water bottle and a calculator if their test requires it.
Everything else should be left in either their car or a locker. If absolutely necessary, bags may be left against the wall in the testing room. However, electronic devices are prohibited and students caught using them will have their test voided. If a device makes a sound and causes a big enough disturbance, it could risk all tests in the room being voided. 
"To prepare for the exams students should review the work that they did in their AP classes, reflecting on the skills they already possess and the ones they need to work on." AP Language and Composition teacher Mrs. Marla Payant said. "However, they shouldn't put too much pressure on themselves, even a bad score provides opportunity for reflection and growth."
The tests are ranked on a numerical scale. AP classes are taken for both high school and college credit. The score a student receives on the AP exam determines the credit they can get for that class. Different colleges accept different scores for college credit. 
Students can expect to receive their results around June.