LSW Improv Team Takes First at State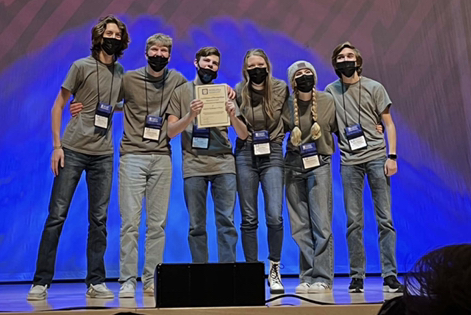 The Lincoln Southwest improv team won State for the first time in the school's history at the 2022 Nebraska State Thespian Festival. Southwest placed once previously when they placed third at the 2020 Nebraska State Thespian Festival.
The qualifying round of the Improv round took place on Jan. 6. It consisted of 15 teams representing schools across the state of Nebraska, with the judges selecting 9 of the 15 teams to qualify to the next round.
"It was pretty cool. It's pretty fun to be considered one sixth of the funniest high schoolers in Nebraska," senior Charis Erickson said. "Improv is probably my favorite activity. It gives us an opportunity to make jokes and be funny."
The second round took place on Jan. 8 and consisted of each of the 9 teams playing three improv games, with scores being tallied by the judges. The top four teams got to perform for everyone at the State Festival for the showcase. During the award ceremony, the top three teams were announced and awarded certificates.
"I wasn't very good starting out, but as you go along you start to learn how the kinks work and you start to become better and more natural especially with your teammates," junior Ethan Olson said. "All of us are really good friends, we get along with each other, and we have really good chemistry, which definitely aids in our ability to work well together on stage. I think that was definitely a huge contributing factor to why we won state this year."
The members of the team consisted of seniors John Roth, Avery Olson, Charis Erickson and juniors Ryan Richert, Ethan Olson, and Zach Moeller. 
Anyone interested in the Improv Club can go to one of the meetings that take place every Tuesday after school at 2 in the black box.