Easy Halloween Treat Ideas
Halloween is here, and so is your sweet tooth. To help satisfy it, here are some sweet recipes from CountryLiving.com, that are simple, yummy and festive for spooky season.
Ghost Popcorn Balls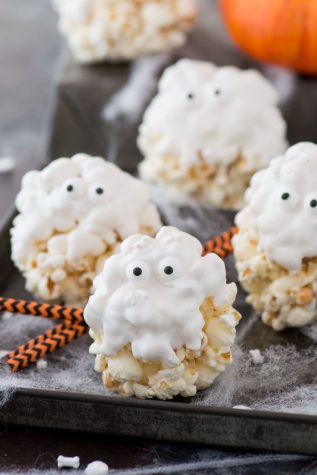 Place one standard size bag of popcorn (about 16 cups) in a large mixing bowl.

Heat 10 oz. of mini marshmallows and ½  stick of butter on medium heat in a saucepan.

Stir the melted marshmallow mixture into the popcorn until evenly coated.

Butter your hands and shape the popcorn into balls, each the size and shape of an egg. Then place them on a baking sheet.

Melt one package of white candy melts according to its label. Vegetable shortening or oil are optional.

Dip the top halves of the popcorn balls into the melted candies. Let sit for one to two minutes.

Add candy eyeballs to each ball, and allow chocolate to fully set before serving

Enjoy!
Spider Oreo Pops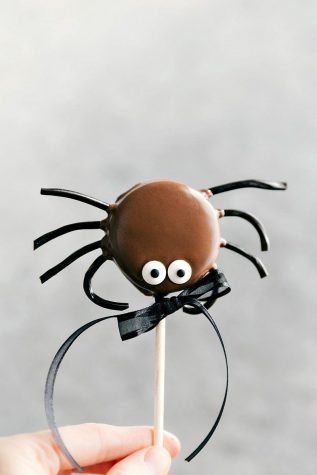 Lay parchment paper over a cookie tray and set aside.

Carefully split apart one package worth of Oreo's.

Split 12 oz. of milk chocolate into three separate bowls.

Optional: Add ½ teaspoon of vegetable oil or shortening to the chocolate. This helps make it easier to work with.

Melt chocolate in the microwave using 20 second bursts, stirring well in between.

Dip lollipop sticks into the melted chocolate, then into cream side of each Oreo.

Cut one bag's worth of licorice laces into one inch pieces. Press four of the laces into the right of the cream side of the Oreo, and another four into the left side.

Gently press the other cookie piece of the Oreo back on to the cream side.

Spoon the melted chocolate over the Oreo. be careful to avoid the licorice sticking out of it.

Cautiously place two edible eyeballs into the chocolate coating, and set the finished treats onto the parchment paper.

Allow to harden at room temperature.

Enjoy!
Spicy Chocolate Bat Cookies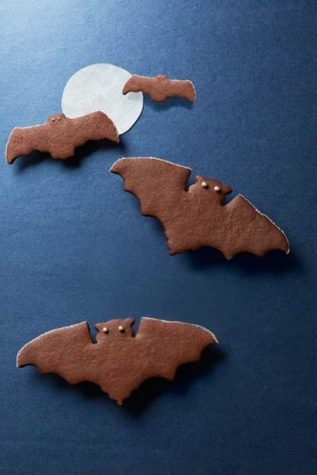 In a large bowl, mix together 2 ½ cups flour, ½ cup dark chocolate powder, ½ teaspoon ground cardamom, ½ teaspoon ground cinnamon, ½ teaspoon fine sea salt, ½ teaspoon baking soda and ½ teaspoon baking powder until fully combined.

Mix 1 ½ stick unsalted butter and ¾ cup brown sugar in a bowl, and beat using an electric mixer. Add one large egg and beat until fluffy. Add ½ cup unsulphured molasses. Add the flour mixture and beat until just combined.

Divide dough in half, and place on seperate pieces of parchment. Roll into ⅜ in. think disk. Refrigerate one hour.

Heat oven to 325 degrees F. Dust countertop with cocoa powder.

Transfer to countertop and cut into bat shapes. Place them 1 inch apart on a baking sheet.

Bake for 12 minutes, until cookies are crisp.

Press two sugar pearls into each cookie to make eyes.

Let cool, and enjoy!
Strawberry Ghosts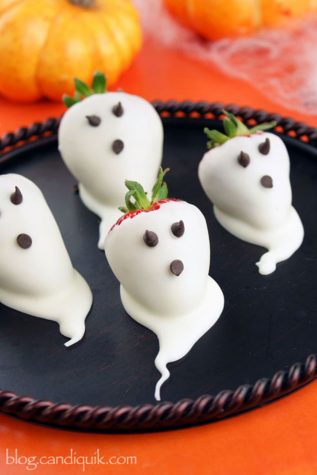 Melt a 16 oz. package of Vanilla Candiquik Coating according to directions on package.

Place a large cut of parchment paper on a countertop.

Dip 24 strawberries in the melted coating, then remove and set on parchment. Then slide back to form the tail.

Before chocolate has set, place two mini chocolate chips as eyes.

Enjoy!
Cobweb Brownies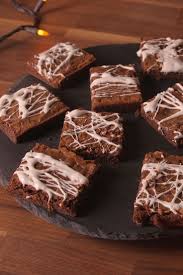 Heat up oven to 350 degrees F. Spray a 9" x 13" baking pan with cooking spray.

Prepare a standard brownie mix according to directions on the box.

Microwave one cup of marshmallows until gooey and melted. (About 30 seconds)

Stretch out about a tablespoon of the marshmallow mixture over the brownies using two forks, pulling them apart from each other to create webbing on top of the brownies. Repeat.

Enjoy!