Who Let the Dogs Out?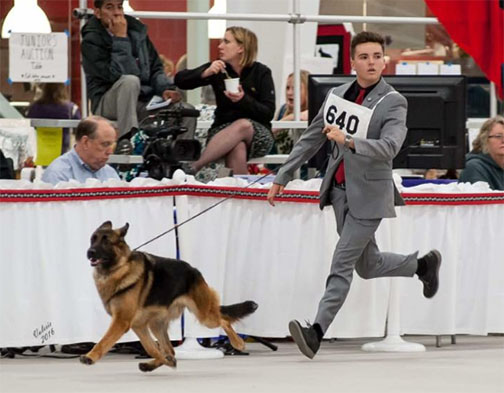 Hang on for a minute...we're trying to find some more stories you might like.
By Jada Johnson
Thrown into a dog show at the age of only 11, senior Nick Hodge did not realize how much they would later impact his life.
Hodge's stepdad took him to his very first dog show when one of the dog handlers was unable to show his dog. The handler saw Hodge and asked him to show the dog instead and told Hodge he would be taught everything he needed to know. Now, six years later, Hodge travels all over the country showing dogs.
There is a lot that goes into the dog shows.
"It's almost like owning your own business," said Hodge.
Handlers have to transport the dogs safely and make sure they arrive okay. Once the well being of the pups is taken care of, the handlers go into the show and get set up.
"I've been to dog shows where ten people are watching me and some where 1,000 people are," said Hodge. "You never know what the dog is going to do either under pressure."
Every handler gets their own grooming spot to get their dogs ready for the show.
"First you need to groom your dog and get your armband number," said Hodge. "I like to work with the dogs a little bit too before we go in."
If the dog wins its class, they are advanced to finals. Then it goes into best of breed. Whichever dog wins best breed, is sent to the nighttime finals, and the judges pick the best out of each group. A dog breed gets accepted by the American Kennel Club and is given a standard. The judges at the shows judge the dogs on how closely they match that standard. Everything they do in the ring is to evaluate the dog to the standard in structure, temperament, and movement. These shows can last all day long.
"Then at night is the fun and you go out to dinner and hangout with people to celebrate the day," said Hodge.
One of Hodge's favorite things about the shows is having friends all over the country and getting to do activities together, like going to the pool and having get togethers and dinners.
For Hodge, to get to where he is now, many people had to contribute to teaching him the key to handling dogs. Traveling to countless dog shows and meeting people from other states introduced him to people who would teach him all sorts of new things. He also learned from his clients, the people he shows for, they gave him many tips on handling. Anyone who was willing to help out with young kids involved with the shows, helped Hodge learn new things.
"You meet people who take advantage of you because you're young, and you don't know what you're doing. You're given bad dogs at first. But you meet the right people, and you learn from your mistakes," said Hodge.
Hodge now works with a family who lives in Des Moines. He visits and works with many of their dogs about once a month.
"The people I show for now are like my family, and I would have never met them without dog shows, which is crazy to think about," said Hodge.
Since Hodge is under 18 he can't get paid for showing, but he can get paid for other tasks. Instead, he gets paid for traveling, helping and grooming.
From years of doing dog shows, Hodge has won multiple awards. Recently, he was the only junior handler in Nebraska to qualify and be invited to the Westminster dog show and the AKC National Championship in Orlando. This meant he was one of the best under the age of 18 competing in dog shows. Hodge plans on competing in the Westminster dog show in New York next year.
Recently, Hodge was also contacted by some TV producers.
"Somebody contacted me and said, 'We're doing this show on people under 18 who show dogs, and we would love to get in contact with you,'" said Hodge.
He had castings and skype calls with producers. Later, Hodge started filming in Orlando when he competed in a national dog show. There he made the final cast list.
"About two weeks ago, they came to Lincoln and followed me around. We had five hours of interviews at my house," said Hodge. "They had pages and pages of questions to ask me."
The camera crew filmed what he did throughout the day and asked him and his friends lots of questions. Currently, the show is waiting to be picked up by a network.
For the future, Hodge plans on going to college in pre med, continuing to show dogs with his clients and becoming a professional handler. He also plans on showing his own German shepherds. Once he is a professional handler, he can start getting paid for showing in the ring.
"Right now I am a junior handler, but as soon as I turn 18, I will be a professional handler," said Hodge.
Before Hodge ever went to a dog show, he knew nothing about them. Now he is on his way to becoming a professional.
"Dogs shows gave me a lot of firsts. They gave me the first time I got to see the ocean and the mountains," said Hodge. "It's made a big impact on my life. I've met so many people I would have never met and been so many places I would have never been."