Honoring Accomplishments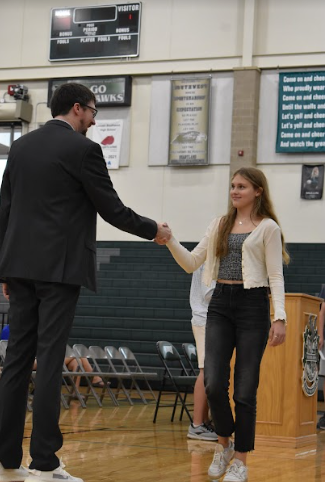 On Wednesday, Sept. 14, Southwest held the first Honors Convocation of the 2022-2023 school year at 8:15 a.m. in the Main Gym.
"Honors Convocation is an opportunity to recognize all of the students who are fulfilling the ultimate purpose of school, which is academic success," principal John Matzen said. "Anytime we can acknowledge what we're doing well, others can see that and want to attain it."
Two Honor Convocations are held a year as well as Senior Honors in second semester. 
"It's a great opportunity to celebrate each other and everything that we've accomplished over the last quarters," sophomore Mary Beth Hart said. "It shows all the hard work that we've put in and it's nice to be rewarded for something. It's cool to see everybody there and be proud of what they have done."
This Honors Convocation celebrated the academic accomplishments from term three and four of the 2021-2022 school year.
Students had their names called as they walked across the gym to shake Matzen's hand. Students then receive a packet with their awards they earned within it. Guests were allowed to watch the ceremony and sat in the section corresponding to their child's grade level.