Hawks Prepare for the Season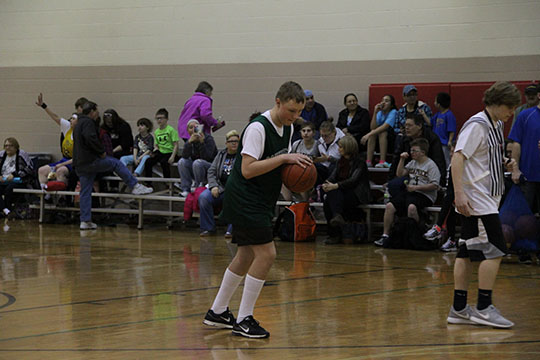 By Lauryn Bailey
The Southwest Special Olympics teams season is underway. The basketball season started on March 4th and was played at Lincoln High School. The team prepared by practicing every Monday, Wednesday, and Friday in the gym.
Students have been practicing since the beginning of term three. Before practice starts they warm up by stretching together in a circle. Every player lifts weights to loosen up their muscles. The team prepares by doing organized drills in practice to work on shooting and ball handling. They also do three on three drills to practice game like situations. Everything they do in practice is taking them one step closer to winning the State championship again.     
The team competes in basketball in the winter and track and field in the spring. Basketball has a few different events that consist of competing in team skills, three on three, and individual skills. Coach Lis Brenden coaches both Special Olympics basketball and track and field.
"Our goal for this year is to get better and to defend our state title," said Brenden. "Last season went really well. We won State, finished second at Districts for the three on three basketball team, and all of the kids who did individual skills were gold medal winners."
Clint Adams is a sophomore who competed in the basketball special olympic games last year and is more than ready for the games to start.
"Last year went pretty good. I feel more confident in myself than I ever have," said Adams.
"One of my biggest goals is to make more free throws." said Adams.
He will be competing in basketball and is practicing every chance he gets.
Being a part of such a great team comes with many rewards.
"The best part is watching them compete and, regardless of what the outcome is, all the fun that they're having, and the competitiveness, and that they don't really care what the outcome ends up being," said Brenden.
"My favorite part about Special Olympics is being on this great team, and just having a great time!" said Adams.
"I can't pick just one favorite memory over the other, but one that stands out is a couple years ago when we had team skills. We had our five girls competing in team skills, and we were the only team that has ever gotten a perfect score, which is pretty good." said Brenden
Throughout the season the students don't only grow as players but also people.
"The absolute best part of coaching Special Olympics is just being with the kids every day and just seeing them get better and the growth that they make during the season."
State basketball takes place on April 1st and State track and field is on May 20th.