Hawks Defeat Norfolk for Second Win of the Season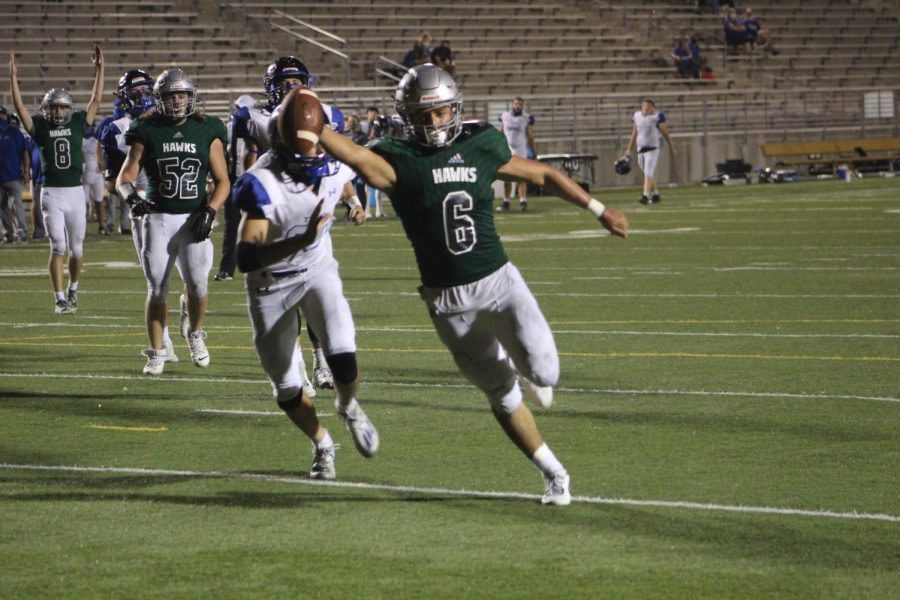 The Lincoln Southwest football team won their second game of the season yesterday against the Norfolk Panthers. 
The Hawks were coming off of a 40-24 loss to Papillion-LaVista South last Friday.
Towards the end of the first quarter, the first mistake of the game from either team came when Norfolk's quarterback fumbled the ball and the Hawks recovered at the Norfolk 47 yard line.
The first points of the game came on a 25 yard touchdown pass from Southwest quarterback Collin Fritton to Danny Rothgeb.
"I felt like our offense performed very well," senior Noah Russell said. "We focused a lot this week and on being able to take deep throws, and we managed to complete a lot of those on Thursday night."
At halftime, the score remained 7-0. The third quarter had no shortage of mistakes and missed opportunities. The Hawks would fail to score both times when inside the Panthers' red zone.
The next score would come on a touchdown pass from Fritton to senior wide receiver Grant Buda to put the Hawks up 14-0.
The very next score would once again come from Buda, this time on a pick-six to put the Hawks up 21-0. 
"As a defense, we probably had more fun than we have had all year," senior Blake Baker said. "It feels amazing when you shut out an offense entirely and keep doing so play after play. Buda made a fantastic read on that play too and took it to the end zone. It was a great night for him, for me, and for the entire defense as a whole."
The only points that Norfolk would manage to score came on a fumble that the Panthers picked up and returned for a touchdown.
"Thursday's game was a good team win," Rothgeb said. "Both sides of the ball did their job. This win was important to getting headed in the right direction coming into the last few games of the season."
Southwest's next game will be against Papillion-LaVista on Friday, Oct. 9 at Seacrest Field.