Unified Bowling applications available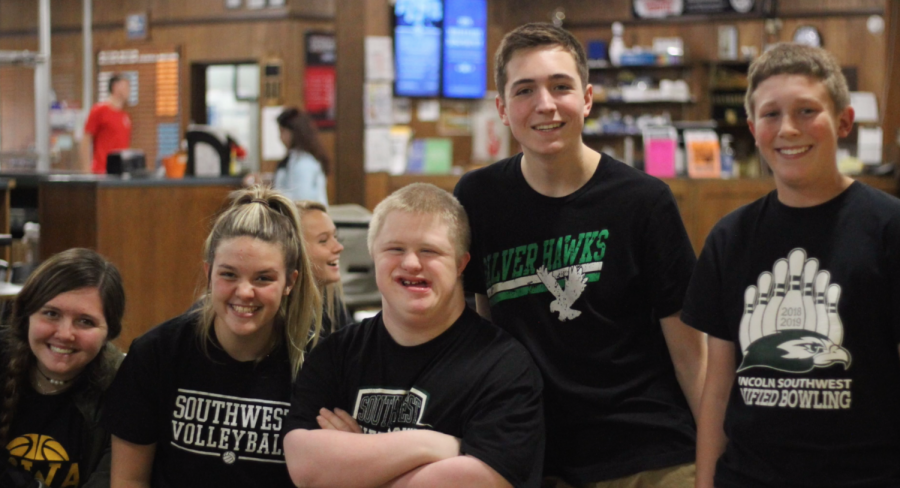 Unified Bowling applications available
Unified bowling applications are now available for the 2020/21 season.
Unified bowling pairs students with intellectual disabilities and students without intellectual disabilities. The goal is to allow people with disabilities to be included, and to build an environment for all Southwest Students. It allows students to make new friendships they normally would not. 
Brandi Benson the Journalism and Mass Media teacher is the Coach of Unified Bowling. 
She got involved with unified bowling when she was asked by the Special Ed coordinator five years ago.
 ¨Unified Bowling started five years ago, and it is also the fifth year LPS or the NSAA has had it. They enrolled to have it five years ago, then Mrs.Champoux, our special education coordinator, reached out to me and asked me if I would be interested in being the head coach.¨
She has loved her experience coaching the team. 
¨I love it. I think it is one of the most relaxing, inclusive, and one of the most fill your bucket kinda things you could do.¨
Junior Allison Wahlbrecht,a team member, has loved her experience participating in unified bowling.
¨It's been the highlight of my high school experience.Definitely something I look forward to.¨
Last year the Unified Bowling team placed second in competition and third at districts.
They are scheduled to start the first week of the second term of the school year.There are 2-3 practices and 3-4 games.The season lasts six weeks, plus an additional two for district and state.
Students can access the application through scanning the posters of the hall.