Recognition For Community Service: The Prudential Spirit of Community Award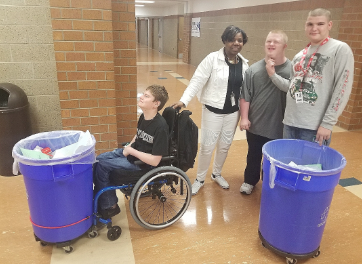 Hang on for a minute...we're trying to find some more stories you might like.
Students interested in community service should look into applying for the 2019 Prudential Spirit of Community Award, the largest group for recognizing youth based on community service and volunteer work.
"I've worked for my church," sophomore Matthew Kinsler said. "We went to the Lincoln City Mission and helped clean out all of their stuff, and we went through thing to help them out."
The program focuses on awarding students in grades 5 – 12 who have participated in any extracurricular community service or volunteer work in the past year. Hours that have been completed for students' government and politics class (GoPo) are eligible and should encourage students to partake in this program.
The principal at Lincoln Southwest, Mr. Mike Gillotti, greatly believes in this program, and what it does for students.
"I think anything that recognizes the value of community service is a good thing," Gillotti said. "Giving up time in service to others helps us appreciate how connected we all are as a community. It's a great opportunity for students to showcase their commitment to community service. Our students do such a great job volunteering that I hope they consider applying."
One winner from each state will then be named the State Honoree, receiving cash rewards as well as an all expenses paid trip to Washington D.C. in May. Qualifying Honorees will also be granted the President's Volunteer Service Award.
"I think [community service] is a good thing, and more people should do it more often," freshman Braxton Arnold said. "I've helped my mom out with community service before."
Students must turn in their completed applications by Tuesday, Nov. 6. Applications can be emailed or personally handed in to a certifier, such as a middle school or high school principal, American Red Cross Chapter, 4-H organization, YMCAs and even local girl scout councils.
For a full list of Prudential Spirit of Community certifiers, or to print out an application online, students can visit the official website at https://spirit.prudential.com/ or http://nassp.org/spirit for more information.