Keeping School Clean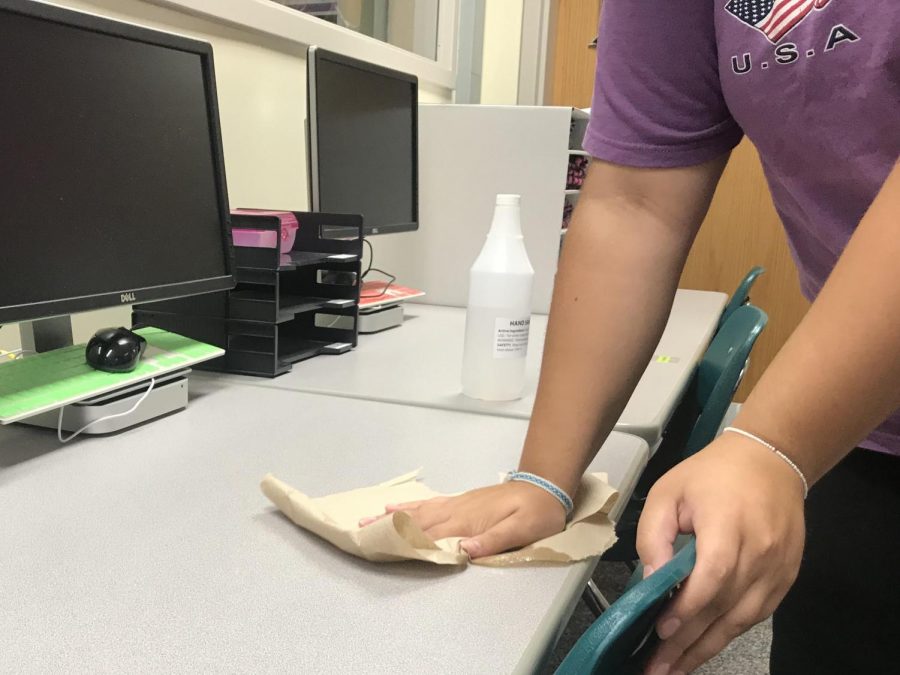 Students are now being required to sanitize anything they come into physical contact with after each class to help stop the spread of COVID-19.
Students must use a bleach solution to wipe down chairs and desks once class ends. In computer classes the computers must be wiped down using hand sanitizer so as not to damage them. At the end of the day, custodians also do a round of thorough sanitation. 
"I think that it's great and really important that the school is doing this," said junior Gabriela Chairez. "With everything going on there's a lot of fear that going back to school is risky, but this calms everyone's fears a bit."
The bleach solution that is used during cleaning is made up of bleach and water. It can stain clothes and if it comes into contact with skin it will not hurt or burn. 
"I think that this is lovely," Madame Christensen said. "It can help us stay healthy and could also come in handy during flu season." Pouring small amounts of bleach solution of desks and then wiping them down will prove to be effective in fighting the spread of germs.
This new normal of constant sanitation to help ensure safety among the student body and faculty will continue until further notice.