Silver Hawk Theatre Soars High at State Thespian Festival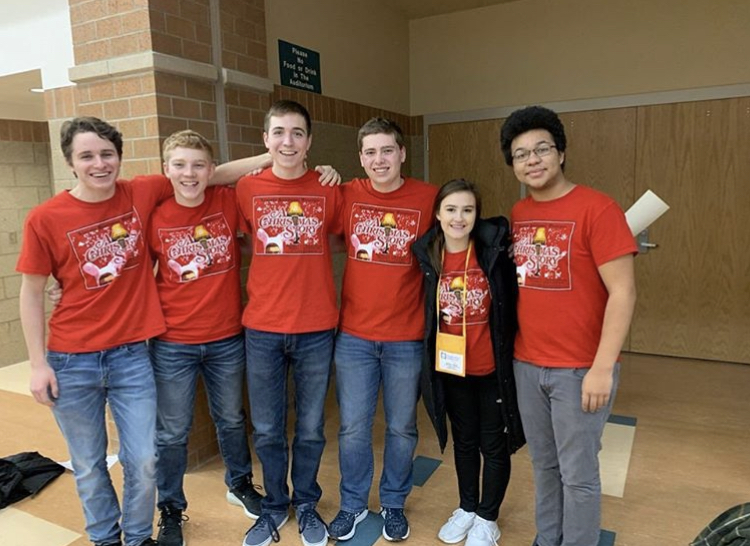 Students from the Lincoln Southwest theatre program went to the Nebraska State Thespian Festival in Omaha, Nebraska over winter break.
From Jan. 2nd to Jan. 4th, students went to the Holland Center in Omaha to compete in a wide variety of events, from performing monologues to a tech challenge. Thespians from all over the state gathered to compete and celebrate the 90th anniversary of the International Thespian Society, which is an honors program for secondary school students from around the world.
"I was on the improv team and did a solo musical theatre event," junior Dillon Richert said. "I did 'Oh What a Beautiful Morning' from 'Oklahoma', and I had a lot of fun."
Students are ranked on a scale out of 24 points per judge. Three judges make up a room, and competitors are judged based on first impressions, the content of the event, and a few other specifications for each individual event. 
"I got a superior in my solo IE, which was 'Killer Instinct' from the musical 'Bring it On,'" said senior Shelby Henry. "I went all four years, and I'm sad that this is my last year of state and I cannot attend internationals." 
State festival was also a special event for junior Emerson Eveleth, who was elected as a 2021 state officer. 
"I got to wear the sash and walk around state and get to talk to people," Eveleth said. "I got to help with small things, and next year when I'm a full state officer, I get to announce shows and help organize the festival." 
Results from the 2020 Nebraska State Thespian Festival
Improv Challenge: Top 4 Finalist Showcase, Third Place
Aubrey Aldag, Kael Frank, Dillon Richert, Dawson Reynolds, Dominic Sander, Jordan Lockert
Solo Musical Theatre Superiors:
John Greisen
Ingrid Gessert
Shelby Henry
Brunn Sundquist
Emerson Eveleth
Avery Olson
Payton Schaefer
Group Musical Superior:
John Greisen, Aubrey Aldag, and Presley Pritchett-Peterson
Duet Musical Superior:
Lawson Horner and Aubrey Aldag
Duet Acting:
Jordan Lockert and Ingrid Gessert
Showcase Callback:
Lawson Horner and Aubrey Aldag
John Greisen
Avery Olson
Tech Challenge: 1st Place
Presley Pritchett-Peterson, Anavictoria Aldomovar-Warner, Jackson Waller, Ian Hogeland, Payton Schaefer, Emerson Eveleth