Goodfellas Review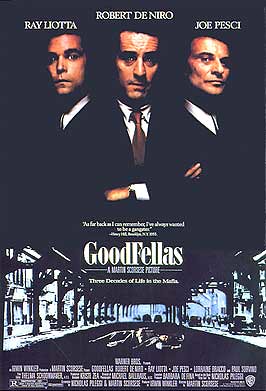 (This movie does depict violence and drug use). Violence, crime, and betrayal are the three main aspects of the mafia and "Goodfellas" is a perfect example of these three traits.
The movie's budget was $25 million and it made $47.1 million in the box office. Martin Scorsese, the director, was considered to be at the top of his directing career with the movie getting nominated with six Academy Awards. Also the movie scored relatively high scores with a 96% from rotten tomatoes, an 8.7/10 from IMDb, and a 90% from Metacritic.
"Goodfellas" has one of the best acting crews that could've been picked for the movie, the three main actors throughout the movie are Robert De Niro, Joe Pesci, and Ray Liotta.
Henry Hill, Ray Liotta, does an amazing job being a narrator and connecting details through the multiple year jumps throughout the movie. His character while he does a good job acting, could be a little more fleshed out going into more details about the real Henry Hill's life.
Robert De Niro has always been into researching his roles so his character could be just that more believable, for this role he looked more into James Conway learning about his exploits as a mafia crew member and his superstition and greediness as well.
Joe Pesci, Tommy DeVito, plays a really fun character seeing his hotheaded or funny reactions to certain situations is a nice contrast compared to the other actors and their more serious characters. His violence towards certain situations shows him as somebody who shouldn't be somebody who should be trifled with.
Most moments from the story are very amusing seeing how the trio can deal with the problems given to them and seeing how the problems are resolved are also very fun to watch as well. Scorsese made some of the best mafia movies known today and this one is probably his golden goose.
I would highly recommend this movie to anybody who has even the slightest interest in mafia movies because this can make somebodies favorite movie with ease.